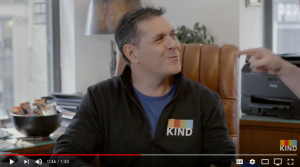 Superbowl Sunday is almost upon us…the game, the halftime and, oh yes, the Superbowl Ads! In recent years, companies have launched their Superbowl ads on social media ahead of the big game in order to maximize the enormous cost of running a commercial during the game. Pre-gaming is a pretty solid marketing strategy to get as many impressions as possible for the millions of dollars spent.
Two brands, KIND Bars and Skittles, have introduced a new pre-game marketing strategy. KIND Bars created a DIY commercial to irreverently explain that they are redirecting the $6 million dollar budget to create an ad into a $6 million dollar coupon giveaway. Why is this genius? It starts with humor. The ad is homespun and kitschy, which makes it extremely shareable content. The video has one million views in two weeks. At the end of the campaign, KIND Bar will have captured 3 million email addresses. That is an instant data base to engage and re-engage with people who like KIND Bars.
Skittles has released multiple teaser ads with spokesman, David Scwhimmer asking audiences, "is this the real Skittles ad?" They are kooky and clipped, leaving the viewer wanting more detail on how each scene unfolds. Skittles gained so much free advertising in years past with Marshawn Lynch's authentic endorsement of eating Skittles on the sidelines of big games, and since he is not in the Superbowl this year, Skittles is going big. Why is this genius? We are chomping at the bit to learn which Skittles commercial is the real one. It's one brand you are keenly waiting to view. Skittles has managed to cut through the pre-game clutter and has the consumer anticipating the commercial.
We love outside the box creativity, work with us on your next campaign!